Alex Vargas December 14, 2012 Heartbeat of a Planet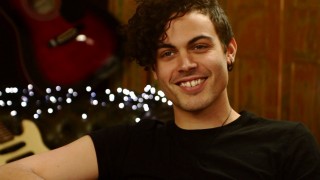 Alex Vargas is a singer, guitarist and songwriter born in Denmark to an English mother and Uruguayan father.
Alex relocated to London at age 17 to pursue his musical career. After having toured the UK club circuit playing in excess of 120 shows and self releasing the EP entitled "Alex Vargas", he was signed to Geffen Records in 2008 and formed the band Vagabond.
Paul Lester from The Guardian said:'..In Alex Vargas they've got a frontman who just happens to have one of the most impressive white soul voices since Michael Hutchence, Steve Winwood and Robert Palmer.'
Throughout 2009, Vagabond toured the UK selling out two headline UK tours and supporting artists such as James Morrison and The Script. Vagabond also performed at the Glastonbury, T in the Park and V music festivals in the UK.
In February 2010 Alex disbanded the band in-order to free himself from the more polished pop sound of Vagabond and pursue a solo career with a rawer sound. Alex is currently writing and recording his debut solo album in London and Los Angeles. He is published by EMI.