Allyn Robinson August 17, 2012 Heartbeat of a Planet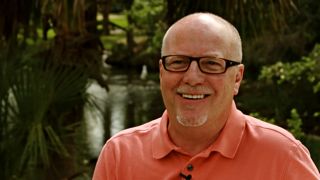 "Allyn Robinson is a key 'missing link' in the recent history of that time and place
where R&B intersected with jazz and fusion, etc." -Drumming Legend Peter Erskine
Renowned R&B drummer and New Orleans native, Allyn Robinson, grew up in New Orleans. At Age 6, Allyn rescued a marching drum from a compost fire and has been burning it up ever since. He played with drum corps, and school bands in New Orleans. He started playing professionally at age 16 and worked regularly due to his impeccable sense of time, willingness to learn all the styles and dedication to making the music sound good.
At the young age of 20, landed the drum gig with Wayne Cochran and The C.C. Riders. His life would never be the same. During his tenure with Wayne Cochran, Allyn played with many great players, including Charles Brent, Red Rodney, Lee Thornburg, Al Sylvestrie and the legendary electric bassist, Jaco Pastorius. Anyone who witnessed the C.C. Riders in the 60s and 70s had a permanent imprint placed on their soul. In 1972, Allyn recorded a landmark record for Epic Records at Columbia Studios in San Francisco, "Cochran", a highly influential record as noted in this recent quote from drum legend Peter Erskine:
…. "I was listening to Allyn's drumming back in 1972 on the album "Cochran" and it had a big influence on me … Allyn was Jaco's rhythm mate in the Wayne Cochran band (the band Jaco toured with pretty much up until the time he joined Weather Report) …Allyn was my first connection to New Orleans drumming aside from some Earl Palmer recordings, but there was something about Allyn's beat that must have gotten inside of my own beat for this is one of the only explanations of why and how Jaco decided to recommend me so strongly to Weather Report after only one hearing, i.e., he heard and sensed a rhythm comfort zone (in addition to the jazz chops I had) … and that comfort zone came directly from Allyn's influence on me."
Allyn played with the legendary electric bassist Jaco Pastorius for 10 months in the Wayne Cochran band and became great friends with Jaco and his family. This was a wonderful time in the early development of two great musicians.
During his extensive musical career, Allyn has performed and or recorded with a diverse group of musicians including: Professor Longhair, Tab Benoit, Dr. Hook, Ernie K Doe, Irma Thomas, Frankie Ford, Eddie Bo, Jerry Lee Lewis, Chuck Berry and Luther Kent.
Allyn just completed his new album, Full Circle, a compilation of classic R&B and New Orleans grooves which feature several of his signature styles. This recording was the brainchild of Harry Hann, who was inspired to create this project, centered on Allyn and his wonderful playground of grooves. Harry and Allyn both played with Wayne Cochran and C.C. Riders, but at different times.
The New CD is available on iTunes, Amazon and CD Baby under The Allyn Robinson Project, "Full Circle".