Andy Garcia May 22, 2013 Heartbeat of a Planet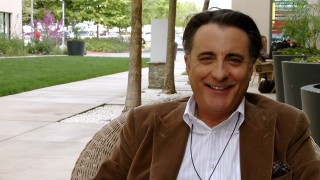 Andy Garcia, actor/director/musician/composer, (born Andrés Arturo García-Menéndez) was five-years-old when he fled with his family from his native Cuba to Miami.
Garcia is one of Hollywood's most popular leading men, starring in such films as The Untouchables, Internal Affairs, When a Man Loves a Woman, Hero, Things To Do In Denver When You're Dead, Night Falls on Manhattan, Desperate Measures, and Ocean's Eleven, Twelve, and Thirteen. He was nominated for an Academy Award for his role in The Godfather Part III.
A talented songwriter, pianist amd percussionist, Garcia has combined his love of music with his loyalty to his Cuban heritage on more than one project. He produced and directed a tribute to Cuban mambo artist Cachoao entitled Cachoao: Like His Rhythm There Is No Other. Garcia's work with Cachoao revived the aging musician's career and brought him to the world music's center stage. In 2005, Garcia co-wrote, directed and starred in The Lost City.  In addition, he composed the film's score and performed on many of its tracks.