Brad Smith May 22, 2013 Heartbeat of a Planet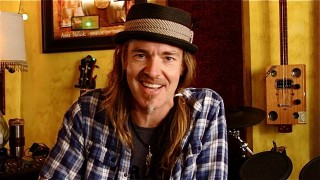 Brad Smith got his initial big break as a songwriter and bassist with '90s rockers Blind Melon. Smith actually penned their breakthrough hit single, "No Rain" years before the band had formed. With their debut certified multi-platinum, Blind Melon appeared to have a successful career ahead of them. But tragedy prevented it happening — after only one more release, lead singer Shannon Hoon died midtour from a drug overdose, promptly ending the band.
But Smith branched out after the band's 1995 dissolution as a solo artist — proving he was not just your average sideman.
Smith appeared on friend Joe Tullo's 1997 solo debut, Scoundrel's Waltz, and began working on his own first solo album.  Smith also reunited with former Melon bandmember Christopher Thorn to form a new band, Unified Theory, issuing their critically acclaimed self-titled album for Universal in 2000 (produced by Smith and Thorn themselves).
The following year saw the release of Smith's much-delayed solo debut, titled Mercy, issued under the alias Abandon Jalopy. Smith followed that with a second album, Death and Joy, in 2012. He is currently working on Abandon Jalopy's third album.