Charles Moore August 17, 2012 Heartbeat of a Planet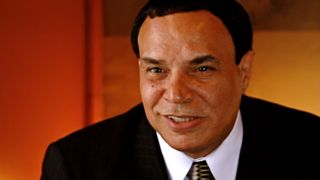 Charles Moore is a native-New Orleans, Creole musician who was born in the famous seventh ward, birthplace of Jelly Roll Morton. His grandfather, John Boudreaux, was a tenor banjo player with the Harrison Serenaders during the formative years of Jazz in New Orleans. His mother, Augustine Boudreaux Moore, was a church organist as well as a pianist who played honky-tonk gigs with her father at the Creole soirees of the 1920's.
Charles is an extremely versatile musician, performing classical guitar, blues, funk, top forty and other music genres. In December 2005, he played in a big band performing swing blues for the President and guests at the White House for the Congressional Ball. Charles and one other musician were honored with an encore performance for the President at the Musicians' Village in New Orleans during the one-year anniversary of Hurricane Katrina.
He has performed in Europe and in the United States, opening for and/or performing with various artists such as Smokey Robinson, Randy Newman, Carlos Santana, Bob Marley, GilScott Heron, Bo Diddly, Jeffrey Osborne, Peter Tosh, Bonnie Raitt, Etta James, the Meters, Chris Thomas King, The Neville Brothers, as well as others. Charles also had the privilege of performing with the late legendary Gatemouth Brown and the late Earl King.
Charles has recorded with Allan Toussaint, Wardell Quezergue, Deacon John Moore, Marva Wright, The Wild Magnolias, James Andrews, Guitar Slim, Jr., Jean Knight, Cyril Neville, and many others. Charles has also recorded with Rock and Roll Hall of Fame legend, Dave Bartholomew. He has made several recordings with his sister, Dr. Sybil Kein, including, never-before recorded Louisiana Creole songs. Charles locally performs with brother, Deacon John Moore, Wardell Quezergue, Dr. John, James Rivers, the Wild Magnolias, Marva Wright, Sharon Martin, Germaine Bazzle, Wanda Rouzan, Davell Crawford, Joe "Cool" Davis, and others.
This year, Charles performed at the Apollo Theater and the Lincoln Center in New York. Locally, you can catch him performing at local night spots including Tipitina's, House of Blues, Rock n' Bowl, the Maple Leaf, Howlin' Wolf, Preservation Jazz Hall, Sweet Lorraine's, Donna's, Le Chat Noir as well as various French Quarter clubs. Charles can also be seen performing every year at the New Orleans Jazz and Heritage Festival with various bands, including, Deacon John's Big Band.
Guitar and Bass: (Acoustic and Electric) Jazz, R&B, Blues, Pop, Top Forty, Classical, Reggae, Rock & Roll, Louisiana Folk, Funk.