Deacon John Moore December 14, 2012 Heartbeat of a Planet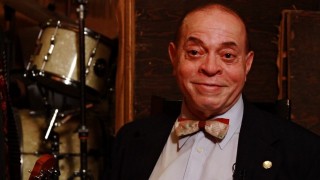 Deacon John Moore, better known as Deacon John is a blues, rhythm and blues and rock and roll musician, singer, and bandleader.
Moore grew up in New Orleans' 8th Ward. He was active on the New Orleans R&B scene since his teens, and became a session man on many hit recordings of the late 1950s and the 1960s, including those by Allen Toussaint, Irma Thomas, Lee Dorsey, Ernie K-Doe, and others.
His band the Ivories at New Orleans' Dew Drop Inn attracted an enthusiastic following, sometimes upstaging visiting national acts Moore was hired to open for.
Highly regarded locally and by his fellow musicians, in 2000 Moore was inducted into the Louisiana Blues Hall of Fame.
He is featured in the documentary film Going Back to New Orleans: The Deacon John Film and the concert DVD, "Deacon John's Jump Blues."
He remains a local favorite on the New Orleans music scene. On 25 July 2006 Moore became president of the local branch of the American Federation of Musicians.