Luther Kent November 16, 2012 Heartbeat of a Planet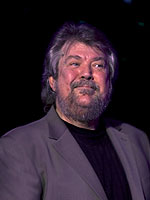 Luther Kent was born in New Orleans, Louisiana. At age 14 Luther began singing professionally and signed with Louisiana based Montel Records. His first record was released under the name of Duke Royal, and the song was "I Wanna Know". Luther toured the country for a three year period while being managed by Walt Daisy, who also handled Wayne Cochran & the C.C.Riders.
In 1970 Luther became lead singer for a group who previously was the rhythm section for Atlantic records at Criteria Studios in Miami, Florida. This group became known as "Cold Grits" who was signed to Lou Adlers Ode Records in Los Angeles. Personal problems erupted within the group and Luther became bound to a lengthy contract. Shortly after the breakup of "Cold Grits" Luther was asked to come aboard as new lead singer for "Blood, Sweet & Tears". He did their world tour dates in 1974-75 and part of 76. During this time he learned he would not be granted a release from Ode records, therefore he was never allowed to record with the world famous group.
Luther now went solo to record his first album at Abby Road studios in London, England. The album is call "Luther Kent World Class" The album featured the Brecker Brothers with members from the London symphony and the London Philharmonic and was arranged by Dell Newman.
In 1978 Luther teamed up with former musical director for Wayne Cochran, Charlie Brent. They formed a large New Orleans horn band which became known as "Luther Kent & Trick Bag". This became the after hours band for many named artists to sit in with, whenever they were visiting New Orleans. Some of these artists included big names such as; Boz Scaggs, B.B. King, Bobby Blue Bland, Slim Harpo, Jimmy Page, Bonnie Bramlett, Greg Allman, Etta James, Joe Cocker, Stevie Winwood, Bo Diddley, Dr. John, Rita Coolidge, Righteous Brothers, Ike & Tina Turner, Wilson Pickett, ZZ Top, Rickie Lee Jones, Mick Fleetwood, Billy Preston, Ernie K-doe, Mike Post, Average White Band, AL Hirt, Billy Ekstein and Pete Fountain. Many good times were had while listening to Big Luther and told in such books later written by Jimmy Buffet and football great, Kenny "The Snake" Stabler. Luther was also written up in another book titled, " Up From The Cradles of Jazz".
During the ten year period of "Trick Bag" Luther released 3 CD's while winning a Cleo award with another Louisiana artist known to many as John Fred of "Judy In Disguise" fame. From doing many radio & TV commercials Luther is also a multi "Addy" award winner. In 1987 Dallas based Independent record promoter Ernie Phillips signed Luther to FM records. Ernie immediately introduced Luther to Grammy Award winning producer Mike Post who produced the album "Past Due". Mike being one of the hottest producers of TV themes later cast Luther in a singing role of the show "COP ROCK". Other product recently released on Luther has included an album called "Classic Songs". Two releases with the multitalented Texas/Louisiana based band know as "The Chicken Hawks" under the leadership of Jack Calmes featuring such greats as Al "TNT" Braggs and the "White Trash" horn section. The latest CD just released on Red Hot Records is titled, "Luther Kent "Down In New Orleans".
Anyone who has ever been to New Orleans, heard Luther Kent,
and made a return visit to the city will immediately do the following:
*Get checked into their hotel
*Find out if Luther is playing in town
*Make plans to chow down on some good Creole food
*Moan for awhile if Luther is out of town, and if he is playing ……
*Party all night long until the sun comes up and tell their friends back home that they have not lived until they've heard Luther sing the blues.
Luther is currently the voice for the New Orleans Tourist Commissions and on commercials for Harrah's in New Orleans & the Louisiana Lottery.Luther has been inducted into "The Louisiana Hall Of Fame" and"The Louisiana Blues Hall Of Fame"