Rocky Dawuni August 17, 2012 Heartbeat of a Planet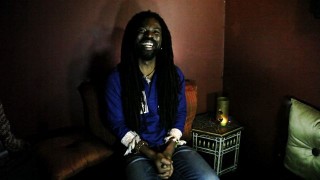 Ghanaian international music star Rocky Dawuni has leveraged his popularity across the African continent to bring his unique Afro Roots sound to global audiences and champion social causes. Over the course of his career, and the release of five albums, his infectious grooves and dance-inducing anthems have consistently excited fans, including some of music's biggest stars with whom he's performed and collaborated. Having appeared at many of the biggest World and Reggae music events, Dawuni has worked alongside Stevie Wonder, Peter Gabriel, Jason Mraz, Sharon Jones, Janelle Monae, as well many others. His eloquence, passion and successful melding of celebrity with humanitarian action have also made him a spokesperson for various global causes.
On his fifth studio release Hymns for the Rebel Soul (Aquarian Records, 2010), Dawuni was inspired by his travels, particularly in Israel, Finland, Jamaica, the U.S. and throughout his native Ghana. Hymns' 11 songs reflect his quest to articulate common spiritual, political and social aspirations and is a musical exploration in global consciousness. The main recording and writing took place in Los Angeles during the transformative 2008 US presidential election and concluded on inauguration day, which also had a profound effect. Hymns For the Rebel Soul was nominated for a prestigious NAACP Image Award for "Outstanding World Music Album" and "Best Album" at the 2011 International Reggae & World Music Awards in Trinidad. Rocky also won "Best African Artist" and has again been nominated for 2012.
Last fall, Dawuni's activism reached new heights when he was invited to meet with Ghana's top leaders on a broad range of issues and was appointed the country's Tourism Ambassador and "World Music Ambassador for MUSIGA (Musician's Union of Ghana)." These efforts join his ongoing involvement with Product (RED), UNICEF, the Carter Center & the UN Global Fund.
What's up next for Africa's shining star? Stay tuned….