Tata Vega May 22, 2013 Heartbeat of a Planet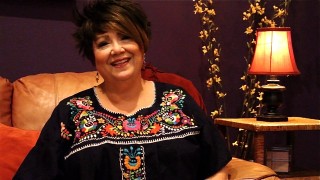 Vocalist Tata Vega is a fresh and original blend of energy and inspiration…an effervescent personality combined with abundant talent, refreshing music and an eternal message. With Táta Vega, what you hear is what you get–and what you get is an artist whose music mirrors her spirit…and vice versa.
Táta is a rare and exceptional artist who has had the opportunity to cross nearly every musical boundary while all the while remaining true to who she is. Growing up in the Panama Canal Zone, she was surrounded by the sounds of Latin,Panamanian and Calypso music while developing a vast appreciation for the sounds of Rhythm and Blues,Soul, Gospel, Rock, Folk, Country and any other music that Táta could hear would also affect her in their own individual way.
By the age of sixteen, it was apparent that Táta was destined for a career in the music industry. She moved to California and made her way into the musical Hair. While in Hair, she met Dobie Gray (known for his international smash "Drift Away") who invited her to become a part of a counter-culture band called Pollution. After two albums under Atlantic with Pollution, Táta joined another band, Earthquire, who would sign a deal with Natural Resources, a division of Motown. As lead singer, songwriter and percussionist with the band, Táta's talents were immediately noticed by Motown who signed her as a soloist on the Tamla label.
As a soloist with Motown, Táta released four critically acclaimed albums ("Full Speed Ahead", "Totally Táta", "Try My Love", "Givin' All My Love"). These four albums covered every musical territory possible: Southern Soul,  Disco, Gospel, Jazz, Funk, Country, Latin and Doo-Wop. Táta also scored two international hits ("I Just Keep Thinking About You Baby" and "Get It Up For Love") which topped Disco charts in both America and Europe. These songs were so contagiously funky that some critics dubbed her "The Godmother Of Funk".
Following her tenure at Motown, Táta maintained a hectic schedule as a studio singer while simultaneously moving into Gospel music. She became the cornerstone of Andraé Crouch's back-up group and as a featured vocalist who began touring with him internationally,  earning her a Grammy Nomination for the song "Oh It is Jesus". Throughout the eighties,nineties,to the present, she's backed-up  Sir Elton John, Stevie Wonder, Madonna, Michael Jackson, Chaka Kahn, Rahsaan Patterson and countless others.
Perhaps the pinnacle of the eighties for Táta was being the voice of the infamous Shug Avery in motion picture,"The Color Purple". This recording led to an Oscar nomination and performance, followed by other motion picture soundtracks including The Lion King, "The Circle Of Life" for  Spanish speaking countries, Amistad, Forrest Gump and others.
Táta signed with Quincy Jones' Qwest Records in 1998 and released her long-awaited Gospel solo debut, "Now I See". The album was birthed from her life experiences and testifies of the salvation, mercy and
devotion of God. The album was also critically acclaimed and earned a Stellar Award nomination.
In October of 2009 Táta released her 9th Studio album "This Joy" with Music Producer Alan Abrahams."This Joy" delivers heart-wrenching vocals not created by studio tricks, but by the spontaneous spirit of an artist souled-out for her Lord and Savior Jesus Christ!
Táta's long awaited dream was fullfilled in Janruary 2013 when she along with Darlene Love,Merry Clayton,Lisa Fischer and Judith Hill premiered "Twenty Feet From Stardom".A film that explores the lives of the women behind the Headliners.The known unknowns; The Back Ground Singers or Backing Vocalists, The Back Up Singers,often referred by Táta as the "Frame for the Painting".
Today, Táta while touring with Elton John,maintains a simplicity and sweetness that has endeared millions of people around the world. Her fan base spans the United States to Sweden,Spain to Japan. No matter the cultural surrounding, Táta carries an indescribable something that everyone can relate to. Her heart's desire is to reach as many people as possible – by any means necessary – with a message of love and hope.